The Antique Harmoniums is the creation of
The group was conceived in 2003 following the initial version of their recording of "Gifts and Testaments of Robin Hood Road". The final version of this project was completed in 2009 and formally released on Nov 21 of that year.
A given Harmoniums CD will cover a wide spectrum of music genres including (but not limited to), choral, pop/rock, country, classical(orchestral), atonal, hard rock, new age.

Harmoniums CDs are produced, arranged, orchestrated and scored by Jon Charles Fortman. They are also recorded in professional studios using top-grade equipment. "Gifts and Testaments of Robin Hood Road" was captured in five different facilities:
---
Art Direction and package design was performed by Malcolm Tarlofsky
---
The group's second CD titled "Heirloom" is already in production. The first song to be captured, "Thanksgiving Prayer" has completed tracking at Audio Arts (Eye Ear Dallas) Arlington TX. I mapped out the conceptual phase of the project at the start of 2008. The most significant difference between the first CD and "Heirloom" is that I will not be the only contributing writer. I plan to include contributions from both of my brothers, Brent and David, as well as from two of my friends, David von Rosenberg and Jeff Schmeckpeper. I plan to produce the CD.

Thanks for dropping by. Stop in often.

TheAntiHarm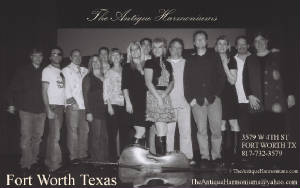 Jon Charles Fortman
- keyboard, piano, lead guitar, backing vocals, acoustic rhythm guitar, electric rhythm guitar, lead guitar, drums, percussion, arrangements, orchestration, scoring and sound field design
Brent Fortman - lead guitar, acoustic lead guitar
Dave Fortman - drums, bass, lead guitar
Kelye Ellison (Robertson) - vocals
Chris Gray - vocals
Brad Thompson - vocals
Jeff Schmeckpeper - lead guitar
David von Rosenberg - arrangement conceptuals
Erik Herbst - lead guitar
Jay Sewell - horn, steel guitar